Sizing Chart
MEASUREMENTS + SIZE CHART
GENERAL SIZING CHART
Please Note - If you need assistance selecting a size- Below are our general size charts for clothing. We carry a wide variety of brands and styles; therefore, sizing can vary depending on fabric and style of the garment.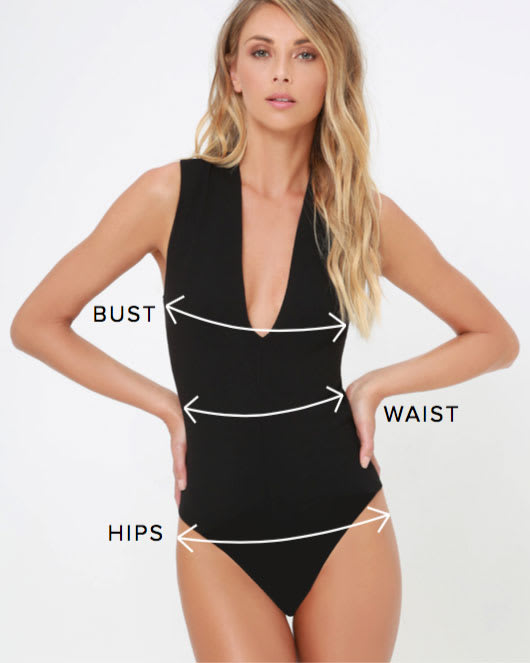 BUST: Measure under your arms around the fullest part of your bust. Make sure to keep the tape level!
WAIST: Make sure the measuring tape fits comfortably as you measure around the narrowest part of your natural waist.
HIPS: Stand with your feet together, and measure around the widest part of your hips.
Note: This guide provides general sizing information only, and fit can vary depending on style and brand
BOTTOMS SIZE CHART
| SIZE | US/CAN | WAIST | HIPS |
| --- | --- | --- | --- |
| XS | 0 | 24"-25" | 34"-35" |
| S | 2-4 | 26"-27" | 36"-37" |
| M | 6-8 | 28"-29" | 38"-39" |
| L | 10-12 | 30"-32" | 40"-42" |
| XL | 14 | 33"-35" | 43" |
TOPS SIZE CHART
| SIZE | US/CAN | BUST | WAIST |
| --- | --- | --- | --- |
| XS | 0 | 31"-32" | 24"-25" |
| S | 2-4 | 33"-34" | 26"-27" |
| M | 6-8 | 35"-36" | 28"-29" |
| L | 10-12 | 37"-39" | 30"-32" |
| XL | 14 | 40"-42" | 33"-35" |
DRESSES SIZE CHART
| SIZE | US/CAN | BUST | WAIST | HIPS |
| --- | --- | --- | --- | --- |
| XS | 0 | 31"-32" | 24"-25" | 34"-35" |
| S | 2-4 | 33"-34" | 26"-27" | 36"-37" |
| M | 6-8 | 35"-36" | 28"-29" | 38"-39" |
| L | 10-12 | 37"-39" | 30"-32" | 40"-42" |
| XL | 14 | 40"-42" | 33"-35" | 43"-45" |
| 1X | 16-18 | 43"-45" | 36"-38" | 46"-48" |
| 2X | 20-22 | 46"-47" | 39"-40" | 49"-50" |
| 3X | 22-24 | 48"-50" | 41"-43" | 51"-53" |
DENIM SIZE CHART
| WAIST SIZE | JUNIOR SIZING | WAIST | LOW WAIST | HIPS |
| --- | --- | --- | --- | --- |
| 24 | 0 | 24"-25" | 26"-27" | 32"-33" |
| 25 | 1 | 25"-26" | 28"-29" | 33"-34" |
| 26 | 3 | 26"-27" | 30"-31" | 34"-35" |
| 27 | 5 | 27"-28" | 31"-32" | 35"-36" |
| 28 | 7 | 28"-29" | 32"-33" | 36"-37" |
| 29 | 9 | 29"-30" | 33"-34" | 37"-38" |
| 30 | 11 | 30"-31" | 34"-35" | 38"-39" |
| 31 | 13 | 31"-32" | 35"-36" | 39"-40" |
| 32 | 15 | 32"-33" | 36"-37" | 40"-41" |